Graphene Ti-based alloy wear-resistant composites,  the successful use of graphene activated moistening technology, in the field of materials to obtain a major breakthrough to improve the hardness at the same time greatly improve the bending strength, access to a high hardness and high strength titanium alloy composite material (in the field of materials, the higher the hardness, the lower the strength will solve the problem of hardness and strength of the material contradictory.), The material used in the crusher hammer, plate hammer, jaw plate, broken wall, Mortar wall, broken roller and other wear-resistant castings, effectively reducing the wear of high manganese steel matrix, the use of domestic and foreign customers feedback, a substantial increase in the wear resistance of wear-resistant castings, so that working life can be improved at least 2- More than 5 times, and greatly improve the efficiency of crushing, crushing equipment, maintenance costs and replacement costs significantly reduced, the technology is at a leading global level.

Saving lots cost for customer
A large number of cost savings for customers, has been recognized by the majority of customers at home
and abroad trust. In a cement group broken limestone, set a long record of up to 20 months, shredding material of 3.78 million tons,
and wear parts of the alloy is still clearly .We have to calculate an account: a hammer crusher using high manganese steel hammer
15 days to replace once, 24 times a year, each set of 280 kg, 6.72 tons per year, 9000 yuan per ton, the annual consumption of 60,400 yuan;
And the use of Langfeng materials produced wear-resistant castings for wear-resistant materials - graphene technology titanium-based
alloy wear-resistant composite materials, cast in the high manganese steel hammer, casting out the alloy hammer, only need to
replace 5 times a year , 1.4 tons per year, 18,000 yuan per ton, the annual cost of 25,200 yuan, 35.2 million yuan for enterprises to save each year.
If there are three crushers, can save 10.584 million yuan each year. Application
Graphite Ti-based alloy wear-resistant composites can be machined, castable, arc welding, heat treatment performance, product toughness,
non-magnetic, with high hardness, high strength, high wear resistance, high degree of hard work, High rigidity, impact resistance,
elastic modulus, with good linear expansion coefficient and impact value, with high damping characteristics and inherent frequency characteristics.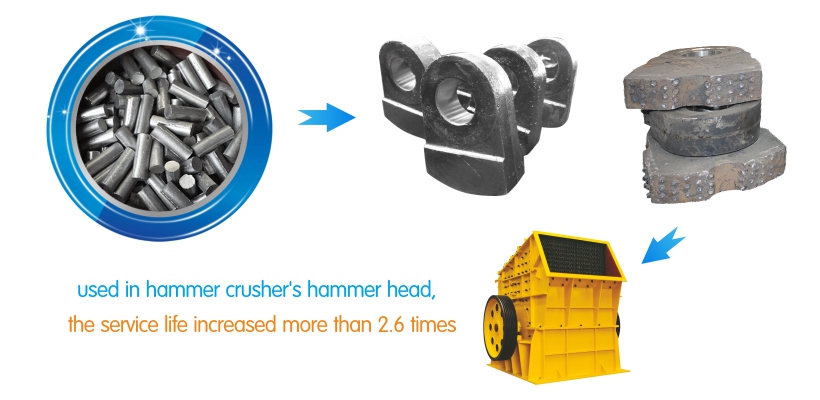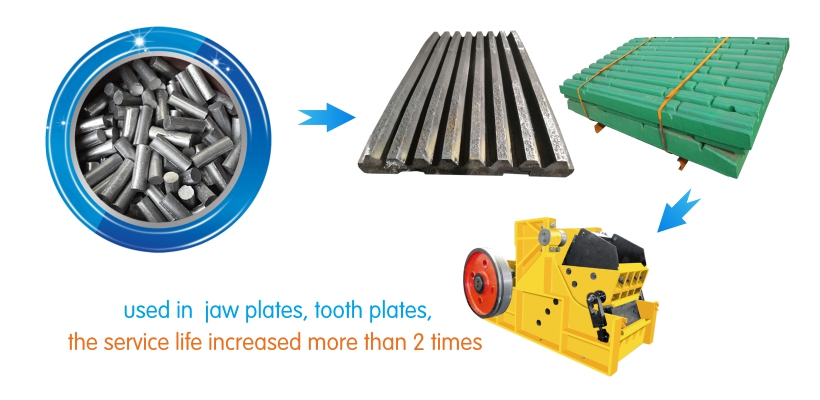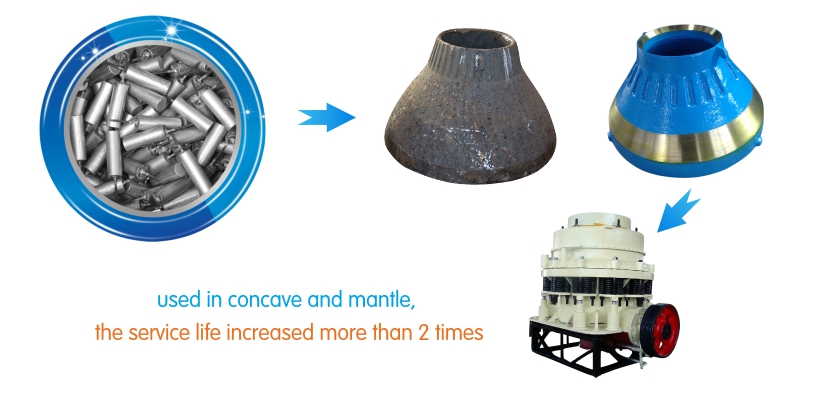 End customers use the site