TiCN Cermets Material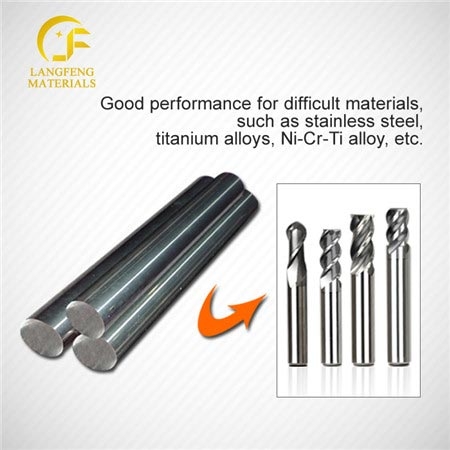 TiCN Cermets Rod
cermets, cermets rod, cermets blank, cemented carbide rod, mirror finish
Description
Ti(C,N) based cermets (TiCN based cermets) were first developed in the 1970's and have been given more and more importance, for it possesses the advantage of high overall cutting performance. It can fill in the gap of application between the WC based cemented carbide and Al2O3 and Si3N4 ceramics and die carbides materials. And it would economize on the use of expensive rare metals such as W, Co and Ta which are necessary for normal cemented carbides.
Ti(C,N) based cermets tool gives excellent overall cutting performance, viz. Loner tool life, lower cutting force, less tool-chip friction and higher machining quality.
The toughness of Ti(C,N) cermets is lower than that of normal WC based cemented carbides, but it can fulfill the practical requirements in its usage.
The regressed empirical formulae of tool life and cutting force can be used as reference for the proper application of the cermets tool materials.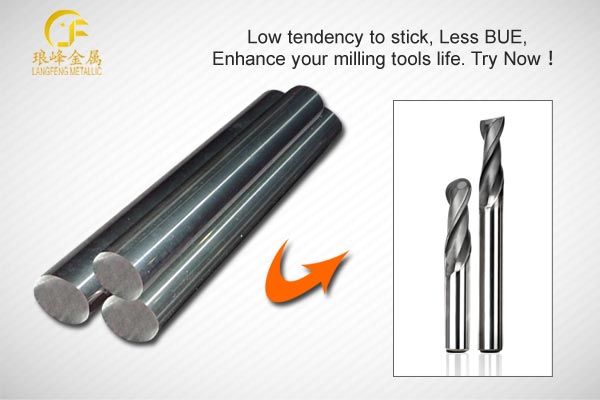 Application:
Ti (C, N) based cermets rod has the properties of high hardness, good chemical stability, wear resistance, and small affinity with metal, low coefficient of friction, high adhesion and proliferation resistance, difficult to produce BUE during cutting, good surface quality, and lower prices.
In addition to casting and applicable to the processing of ordinary steel, but also it can process difficult materials such as hardened steel, high strength steel, chilled cast iron and nickel-based super alloy, etc. It could improve metal working efficiency by TiCN cermets tools' turning and milling instead of grinding. Compared to Tungsten carbide tools (T.C tools), Ti(C,N) cermets cutting tools improve cutting speed and efficiency, or increase the tool life at the same cutting speed .
Ti(C,N) based cermets cutting tools is suitable for high-speed (200m / min or so) mould steel machining, especially grooving. For cast iron machining, could choose TiCN cermets cutter when cutting speed is less than 750m / min.
TiCN cermets VS cemented carbide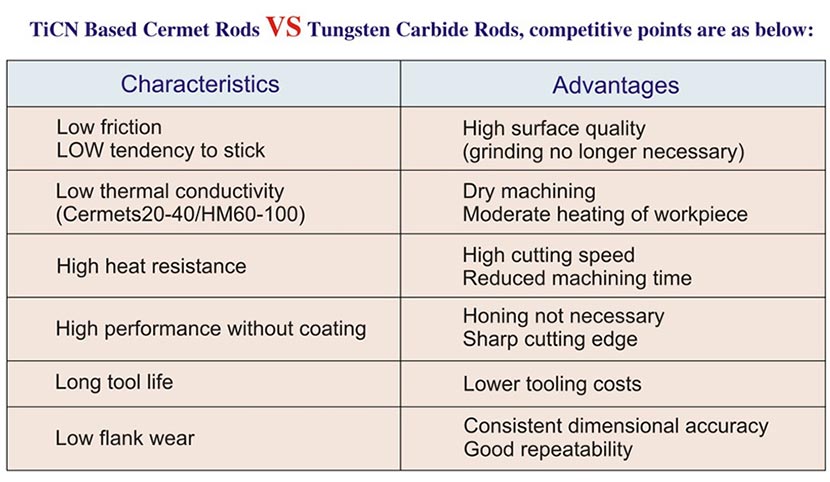 TiCN cermets plate physical and chemical properties:
PHYSICAL

CHEMICAL

TRS (ISO 3327 )

2085 N/mm2

Compositions

wt.%

Hardness (ISO 3878 )

91.7±0.5 HRA

Co+Ni

15.0

Magnetic Saturation

NA mu/g

Ti(C,N)

60.0

Density (ISO 3369 )

6.35±0.1 g/cm3

 

 

Average Grain Size

≤1.0 μm

Other

25.0

Porosities

A02B00C00

/

/

Hc

NA kA/m

/

/
Compared to Tungsten carbide rod, the reasons why TiCN cermets cutter could bring longer service life are as below items:
1. two materials' high temperature varies greatly. Take T.C rod in grade YT15 for example, it belongs to WC-TiC-Co series, hard phase is WC and TiC, Co is binding phase. The hardness of TiC (HV3200) is higher than WC( HV2400), more TiC content, the higher hardness is. Compared to T.C rod, the speed of hardness deduction of TiCN cermets cutter will be slow down as temperature increases.
2. TiCN cermets cutting tools has the property of high oxidation resistance. During cutting, TiO2 film that formed by oxidation from TiC play as lubricant with high wear resistance. For cemented carbide cutter, during cutting, WC will be oxidized into WO3, furthermore, WC will react with steel when tool tip's temperature high to 800 degree and form (W Fe)6C, which both are negative for carbide cutters' wear resistance.
3. TiCN cermets cutter has the property of high crater wear resistance. Crater will occur when temperature is 850-900 degree for tungsten carbide cutters, for TiCN cermets cutting tool, the temperature is 1100-1200 degree.
4. TiCN cermets cutter has the property of good chemical stability. Small affinity with metal and small friction coefficient with steel work piece, BUE is hard be formed when machining, which could bring mirror surface effect.
Online Message
If you have any suggestions or opinions about our products,please leave a message,and we will immediately answer your questions. Thanks for your support.