TiCN Cermets Material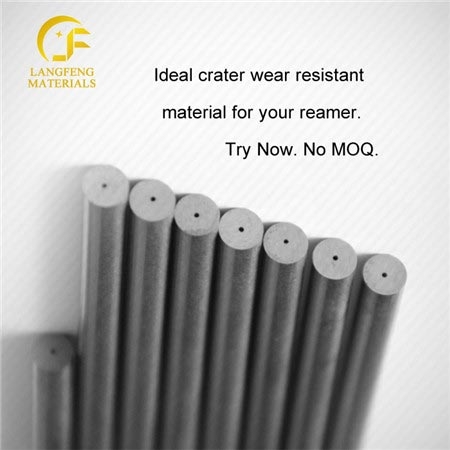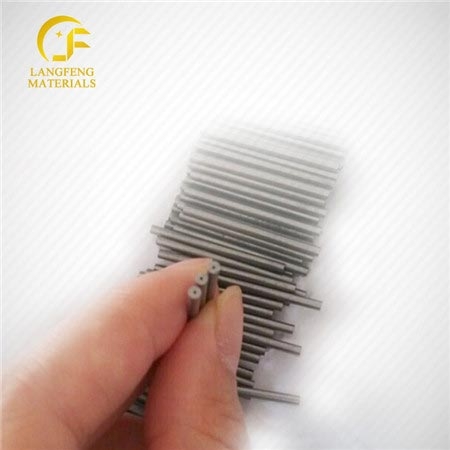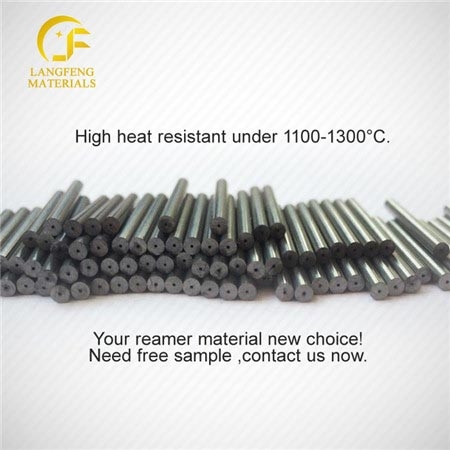 TiCN Cermets Rod with Coolant Hole
cermets, cermets rod with coolant hole, cermets blank, cemented carbide rod, mirror finish, reamer with coolant hole
Description
Ti (CN) cermets plate cermets tips has very good application, especially in reamer. Compared with tungsten carbide cutting tools, cermets cutting tool has advantages of lower density, harder, much lower friction for machining steel, better thermal stability when machining, close toughness, lower causticity and heat conduction, better wear-resistance. Working in the same condition, TiCN based cermets cutting tool has longer using life and can be used under faster cutting speed. We can get more finish work-piece with smoother surface using cermets cutting tool. From above, we have used Ti CN based cermets cutting tool to replace WC based carbide cutting tool in some fields successfully. It fills up the gap between WC based carbide and ceramic. It is suitable for Semi-finishing and finishing machining of steel and wear part specially.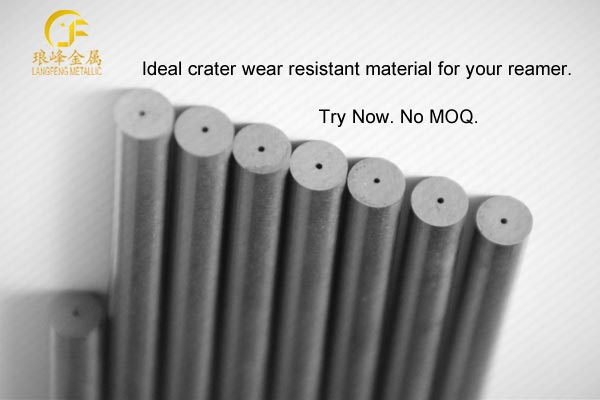 Application
1. Ti(C N) cermets cutting tools speed faster with long life,
2. 6.4g/cm³ density, 92.5 Hardness, 2.0-2.1Gpa, 0.8Micro grain size
3. Lower friction, better thermal stability, better wear-resistance.
4. For finish work-piece with smooth surface.
5. Suitable for semi-finishing and finishing machining of steel and wear part specially.
TiCN cermets VS cemented carbide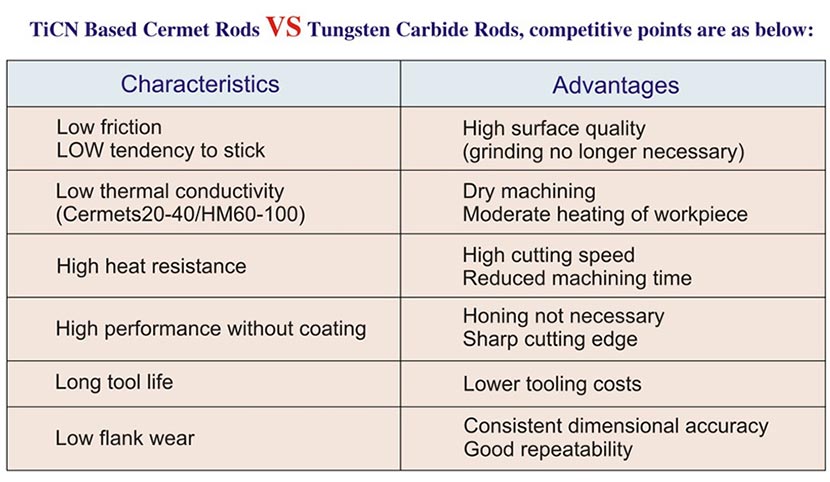 TiCN cermets rod with coolant hole physical and chemical properties:
PHYSICAL

CHEMICAL

TRS (ISO 3327 )

2085 N/mm2

Compositions

wt.%

Hardness (ISO 3878 )

91.7±0.5 HRA

Co+Ni

15.0

Magnetic Saturation

NA mu/g

Ti(C,N)

60.0

Density (ISO 3369 )

6.35±0.1 g/cm3

 

 

Average Grain Size

≤1.0 μm

Other

25.0

Porosities

A02B00C00

/

/

Hc

NA kA/m

/

/
Compared to Tungsten carbide rod, the reasons why TiCN cermets cutter could bring longer service life are as below items:
1. two materials' high temperature varies greatly. Take T.C rod in grade YT15 for example, it belongs to WC-TiC-Co series, hard phase is WC and TiC, Co is binding phase. The hardness of TiC (HV3200) is higher than WC( HV2400), more TiC content, the higher hardness is. Compared to T.C rod, the speed of hardness deduction of TiCN cermets cutter will be slow down as temperature increases.
2. TiCN cermets cutting tools has the property of high oxidation resistance. During cutting, TiO2 film that formed by oxidation from TiC play as lubricant with high wear resistance. For cemented carbide cutter, during cutting, WC will be oxidized into WO3, furthermore, WC will react with steel when tool tip's temperature high to 800 degree and form (W Fe)6C, which both are negative for carbide cutters' wear resistance.
3. TiCN cermets cutter has the property of high crater wear resistance. Crater will occur when temperature is 850-900 degree for tungsten carbide cutters, for TiCN cermets cutting tool, the temperature is 1100-1200 degree.
4. TiCN cermets cutter has the property of good chemical stability. Small affinity with metal and small friction coefficient with steel work piece, BUE is hard be formed when machining, which could bring mirror surface effect.
Online Message
If you have any suggestions or opinions about our products,please leave a message,and we will immediately answer your questions. Thanks for your support.