Steel Bonded Titanium Carbide Material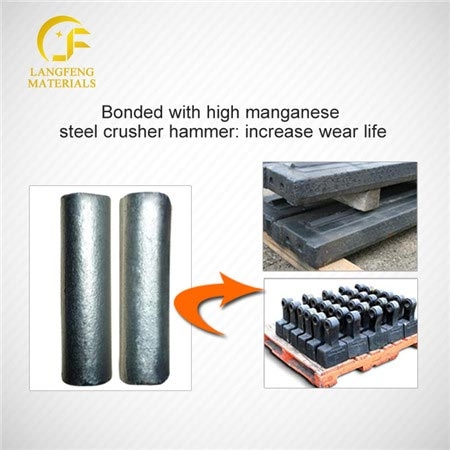 TM52 Steel Bonded Titanium Carbide Rod
non magnetic tic hard alloy material, tic high wear resistant steel bonded hard alloy, TM52 steel bonded titanium carbide rod, fero-tic inserts
Description
Description:
TM52 Steel Bonded Titanium Carbide Rod, which contains 47-50wt% of a hard phase TiC and 37-40 wt% of a bonding phase high manganese steel, wherein the bonding phase contains, by weight, 2.0-4.0% of Ni, 10.0-12.0% of Mn, and the balance elements. The TM52 steel bonded titanium carbide rod is mainly prepared by the following steps of: proportioning, compaction, sintering. The non magnetic titanium alloy material has advantages of uniform austenite microstructure, high wear resistance, good strength and good pourability. TM52 steel bonded titanium carbide rod is widely used in mining industry, especially on high manganese steel crusher hammer.
Below wear parts for cement plants and mineral mining factories
Stone Crushers, Mineral Pulverizing, Rail Crossings, Liners, Grates, Earth Moving, Pipe Lines and Bends Conveying Abrasive Media, Construction Equipment
Application: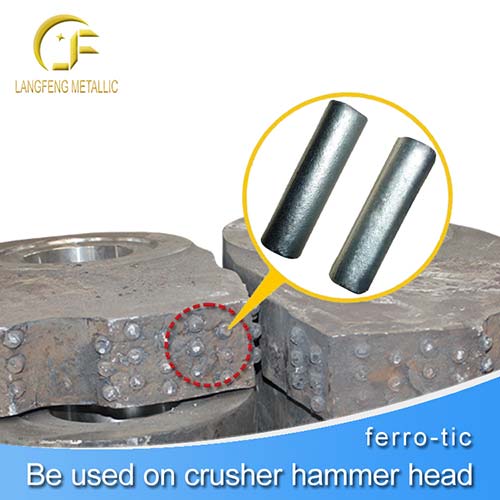 Usage tips, PLEASE DOWNLOAD:
If use EPC: please send mail to : sales@langfengmaterials.com get details;
If use sand (wood) mould: please mail to : sales@langfengmaterials.com get details.
PHYSICAL

CHEMICAL

Compositions

wt.%

TRS

(ISO 3327 )

1800 +200 N/mm2

Ni

2.0

Hardness

(ISO 3878 )

82.5±0.5 HRA

TiC

47.0

Density

(ISO 3369 )

6.2 ±0.2 g/cm3

Fe

37.0

Average Grain Size

2.0 ±0.5 μm

Mn

10.0

Porosities

A02B00C00

Other

4.0
Online Message
If you have any suggestions or opinions about our products,please leave a message,and we will immediately answer your questions. Thanks for your support.