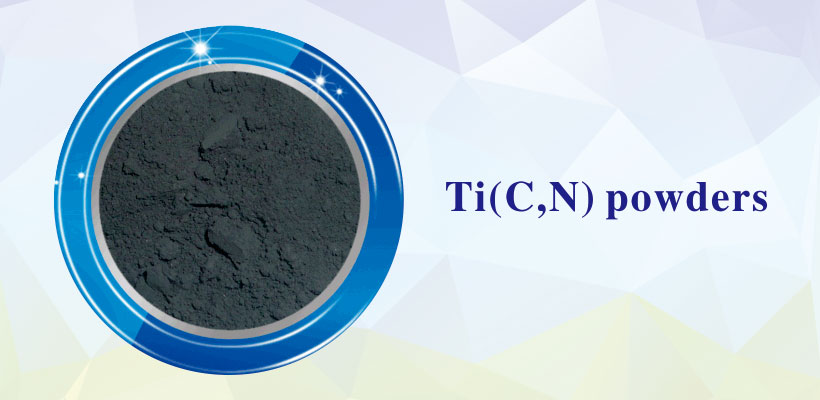 Ti(C,N) Titanium Carbide nitride powder, is a kind of grey-black powder, Cas No. 12654-86-3, Chemical formula TICN, is a zero-dimensional ternary solid solution. TiC and TiN constitute the Titanium carbide nitrides foundation, has the FCC lattice NaCl structure, simultaneously may also with TaC, NbC and so on many kinds of transition metal carbide form the solid solution. Widely used in spraying, coating, cutting tools, powder metallurgy and metal ceramic products.
The advantage of TiCN powder by Changsha Langfeng metallic material Co.,Ltd
Choose High purity 99.99% Titanium oxide and High purity carbon black raw material, ensure the purity of Titanium carbide powder ;
The special original additive application technology, ensure the powder grain densification, carbide sintered uniform, uniform particle size;
Unique carbide sintering technology ensures Single-phase solid solutionlow oxygen content, low free carbon, stable product quality.
Application:
Ti (C,N) powder has the advantages of TiC and TiN, with high melting point, high hardness, wear resistance, oxidation resistance, corrosion resistance and other characteristics, and has good thermal conductivity, electrical conductivity and chemical stability, is an ideal Tool coating material. Titanium carbonitride coating can improve the bonding strength with the matrix, while the composite material can have a variety of properties. Titanium carbonitride is an all-purpose coating material, in the impact mode, injection mold and cutting tools in the field of performance is particularly good. Titanium carbonitride is easily peeled off, so that cost can be saved in the production of expensive injection mold parts. With the original coating tool to obtain a 5-fold life, you can peel the coating and then re-coating, and then get 5 times the length of life, and keep the cycle going.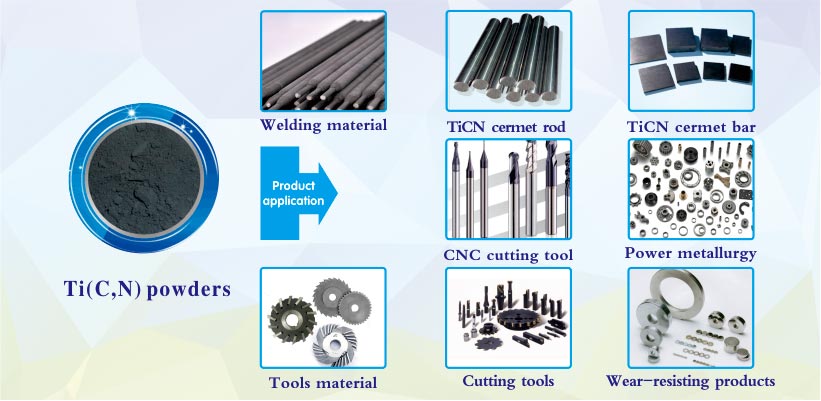 The cermets made by TiCN has the following characteristics: hardness (HRA) up to 91-95, with good wear resistance and the ideal resistance to crescent crater wear, high-speed cutting steel wear rate is very low, its High wear resistance than the carbide 3-4 times; in the 1100-1300 ℃ high temperatures can still be cutting, the general cutting speed 2-3 times higher than the carbide; has good chemical stability and antioxidant capacity; Suitable for high-speed cutting tool material, can well control the geometric accuracy and tolerance of the work-piece, high finish, high feed rate; processing carbon steel, stainless steel, micro alloyed steel, and ductile iron when can achieve very good results. Particularly titanium alloy material which difficult to processing, the processing speed can reach 300-350 m / min, and can improve the surface smoothness of the work-pieces.